Arbitration Happy Hour is a new format launched by Svenja Wachtel and Sneha Ashtikar on Clubhouse, the social networking app based on audio-chat.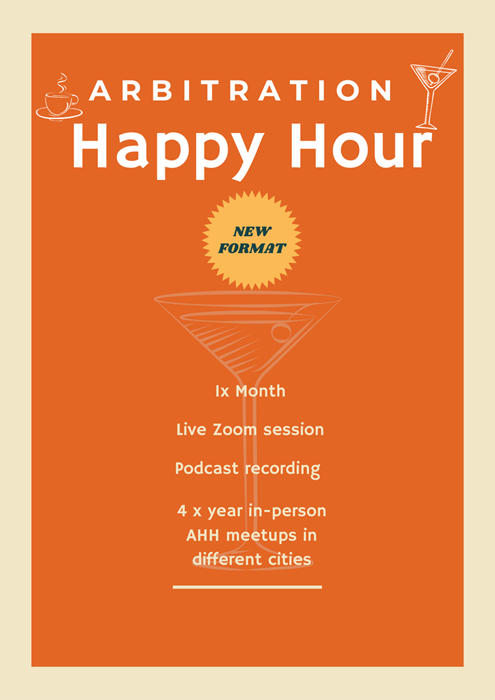 We had to pause the Arbitration Happy Hour!  Why? Read below
Corona seems to slow down (fingers crossed) and many people are back in the office, everyone is craving in person interaction so we have to adapt the AHH format.
What is changing:
Concept same as before: One or more speaker talking to us (Sneha Ashtikar and I) about a topic in international arbitration
Frequency – Monthly (not weekly anymore)
Where – Live session on Zoom with interactive Q&A, and – here is the good part – we will make a podcast (no video) out of it. So, if you cannot join for the live session, you can still listen to it whenever you like
AHH Meetups: three or four times a year we will actually meet in a city, host a live #ArbitrationHappyHour and will meet for drinks
Follow us on LinkedIn or simply further announcements here. We already have a line up on topics ranging from Maritime Arbitration to Insurance Arbitration to Emergency Arbitrator and more.
See you at the next AHH soon!
On February 11, 2021, Svenja and Sneha started the #ArbitrationHappyHour on Clubhouse. Every Thursday at 6pm (CET), they spoke with their guest(s) about various arbitration-related topics. The hope is to facilitate an exchange of ideas and share experiences on a variety of arbitration-related matters through this new medium.
Following 20 successful episodes, Sneha and Svenja concluded season 1 and enjoyed the summer break. Season 2 starts on Thursday, September 16, 2021. Clubhouse is now open to everyone, no invite needed. All future episodes will be featured here and on Digital Coffee Break in Arbitration.
#10 – Seat in India: Challenge Procedures and More

Thursday, 30 June, 6 PM (CEST) on Zoom
#9 – International Arbitration: Ally or obstacle in the race against climate change?

Thursday, 19 May, 6 PM (CEST) on Zoom
#7 – International Armed Conflict, International Dispute Resolution and the Rule of Law

Thursday, March 3, 6 PM (CET) on Zoom or locally in Tallinn
#6 – Quantum Calculations & Risk Assesments – An In-House Perspective

Thursday, February 17, 6 PM (GMT+1) on Zoom
#5 – Total Recall:
Witness Evidence & the Fallibility of Human Memory
Thursday, January 27, 6 PM (GMT+1) on Zoom
#2 – How to give more responsibility
Thursday, September 23, 6 PM (GMT+2)
#20 – In-House Counsel as a Career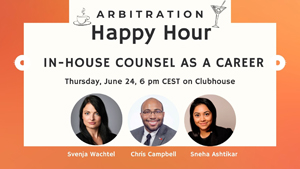 #19 – Third Parties in Arbitration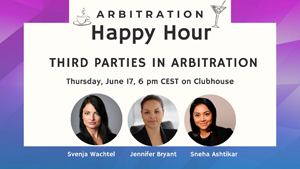 #18 – Careers in Third Party Funding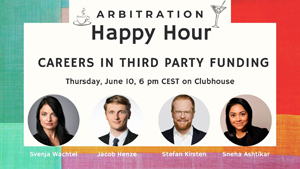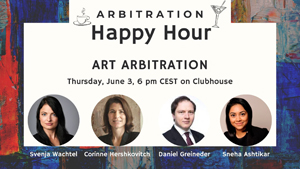 #16 – Building a Brand in Arbitration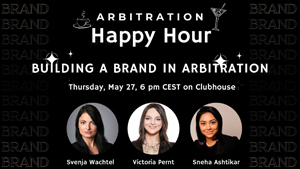 #15 – eSports and Arbitration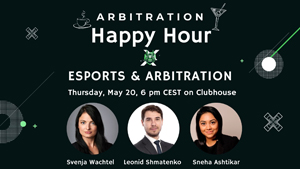 #14 – Share Your Arbitration Story with Our Audience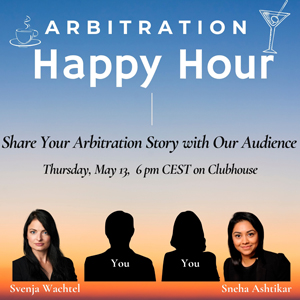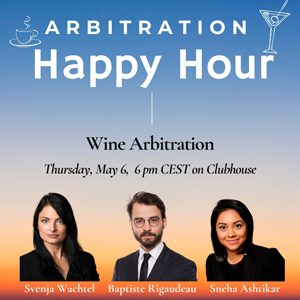 #12 – Arbitration: A Cure for the Cannabis Industry?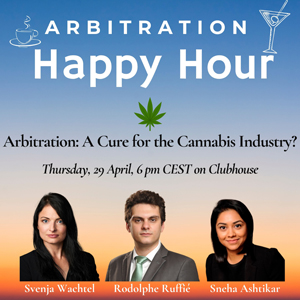 #11 – Earth Day Special – Campaign for Greener Arbitrations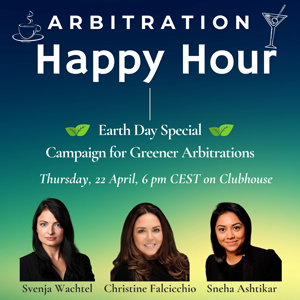 #10 – Construction Arbitration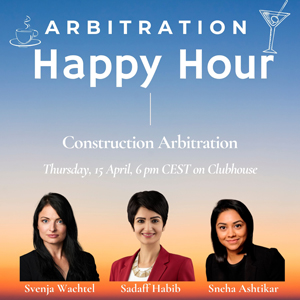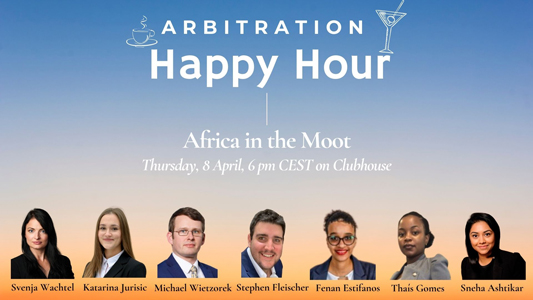 #8 – Publication of Arbitral Awards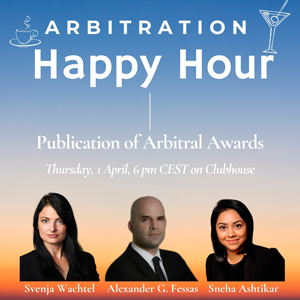 #7 – ArbTech Talk: The Future is Now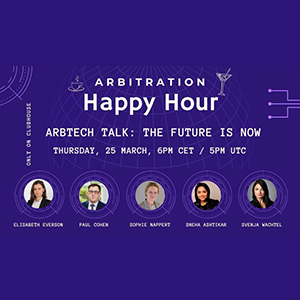 Special – Moot Alumni Association meets Arbitration Happy Hour 2.0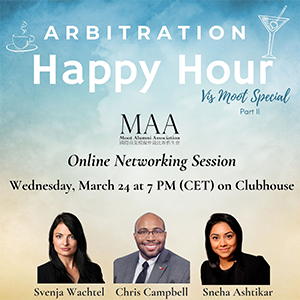 Special – Moot Alumni Association meets Arbitration Happy Hour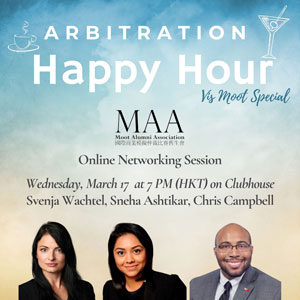 #6 – Overcoming the Trauma of Trials with Richard Westley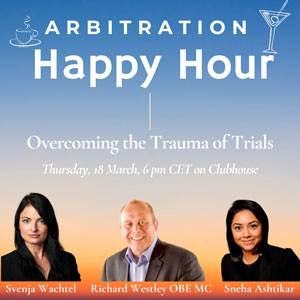 #5 – Fireside chat with Dana MacGrath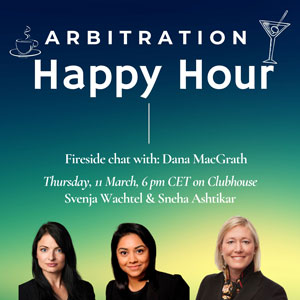 #4 – Arbitrators – Pale, Male, and Stale with Lise Alm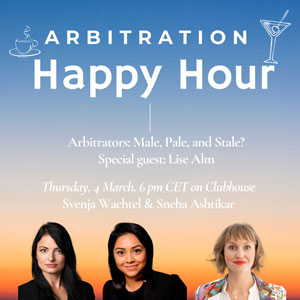 #3 – Arbitrators on Social Media: Yes or No? with Mahnaz Malik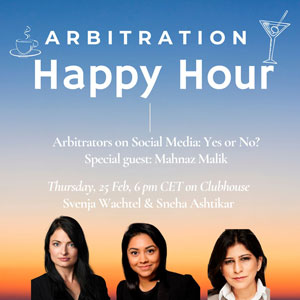 #2 – Racial Equality in Arbitration with R. Rangachari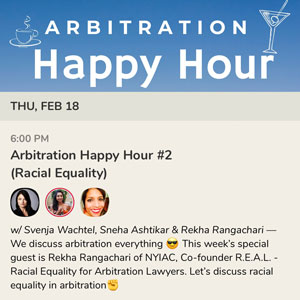 #1 – Moot Courts with Sneha Ashtikar and Svenja Wachtel